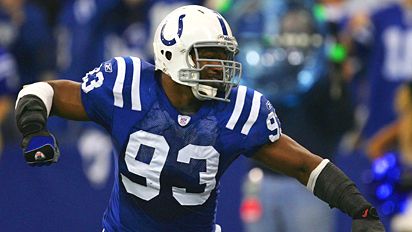 The
Saints
held their
final practice session on Saturday
, and so far still only have corner back
Randall Gay
(illness) and Lyle Hamilton (ankle) as their sole injury concerns. Gay has been suffering from a cold, but head coach Sean Payton expects him to play. Payton is not as sure about Hamilton, who has been nursing a sore ankle, but the coach remains optimistic.
When last we heard from the
Colts
, all their star players were spontaneously combusting all over the place. Indianapolis also held their f
inal walkthrough practice Saturday morning
.
Dwight Freeney
(ankle!) sat out practice again. Corner back
Jerraud Powers
(foot) did some light work. Head coach Jim Caldwell said both are considered day-to-day. As for
Reggie Wayne
, he returned to practice Saturday after leaving 20 minutes early Friday when he re-aggravated his right knee.
"We've done extremely well and been attentive," he said. "The [players] have been very, very focused and our practices have been sharp as well. Overall we've been moving in the right direction."
I certainly hope so. It would be great if both teams had all their star players in the game. Super Bowl parties are depending on it. And these injured players need to stand up, play through the pain and understand that destiny is calling. "Perseverance!: What the mind can conceive and believe, it can achieve!" I read that on a poster at a dentist's office once. I'm not sure what it means, but if it has anything to do with my Super Bowl party and the crapload of buffalo wings and Jose Ole' taquitos that' I'm planning to consume, then that would be fantastic.