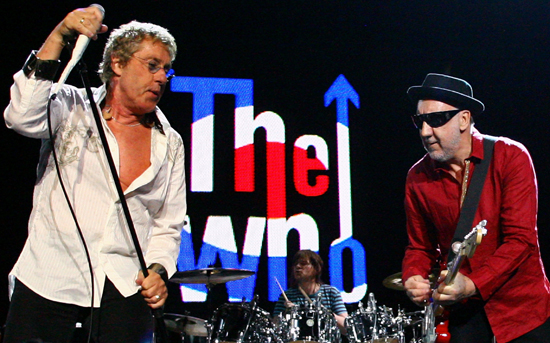 The Super Bowl halftime performers have revealed their playlist. And by "performers," we mean The Who. And by "The Who" we mean Pete Townshend, Roger Daltrey and a bunch of other dudes not named John Entwhistle (or Keith Moon for that matter).
And,
according to what Townshend tells Billboard.com
, the band is expected to continue the long storied tradition of performing mashed up medleys that have made Super Bowl halftime performances so wonderfully *not-so-memorable:
"A bit of 'Baba O'Riley,' a bit of 'Pinball Wizard,' a bit of the close of 'Tommy,' a bit of 'Who Are You,' and a bit of 'Won't Get Fooled Again.' It works -- it's quite a saga. A lot of the stuff that we do has that kind of celebratory vibe about it -- we've always tried to make music that allows the audience to go a bit wild if they want to. Hopefully it will hit the spot."
Hey, look at that.
Who Are You
. Will be performed. On CBS. No word if David Caruso will make an appearance on the stage and dramatically take off his shades at the end of the song. But that would be pretty badass. Did I just plug a CBS show on this site? Why yes. Yes I did. And I'm not even asking for a bonus or nothing. Honest.
*seriously, I defy you to remember any of the last 10 half time performances. Except maybe the Super Bowl XXXVI post-9/11 U2 performance. What? You don't remember that one either? You commie!